New to the SPIDERfit Kids Tribe? Start here!
Welcome to the Tribe!
At SPIDERfit Kids, we believe that personal trainers, teachers, parents, coaches and therapists all have a tremendous opportunity to inspire children to a life of fitness and physical literacy with the power of play.  Our online resources are designed to give you the research, knowledge, and activities to make youth fitness programs fun and effective for ALL children.
The SPIDERfit mission is to provide you with the tools and the framework to once again make "productive play" part of children's lives.  With the knowledge of how to utilize fun, play-based activities to develop foundational movement skills, you can inspire children of all age and fitness levels to be active for life.
Our goal is to cast a wide net with diverse youth fitness resources and ensure that no child feels alienated or left out. Fun, engaging activities and games are designed to create a play-based environment to build the foundations necessary for true physical literacy as well as improve cognitive and behavioral outcomes. At SPIDERfit Kids we want kids to move better so they want to move more for a lifetime!
We are fitness professionals and dads, who are passionate about sharing the activities, program strategies, and research that will help you make an impact on the health of our kids.
We believe that collaboration empowers our cause, so we welcome parents, coaches, therapists, teachers, and anyone else looking to make a difference as part of the SPIDERfit tribe!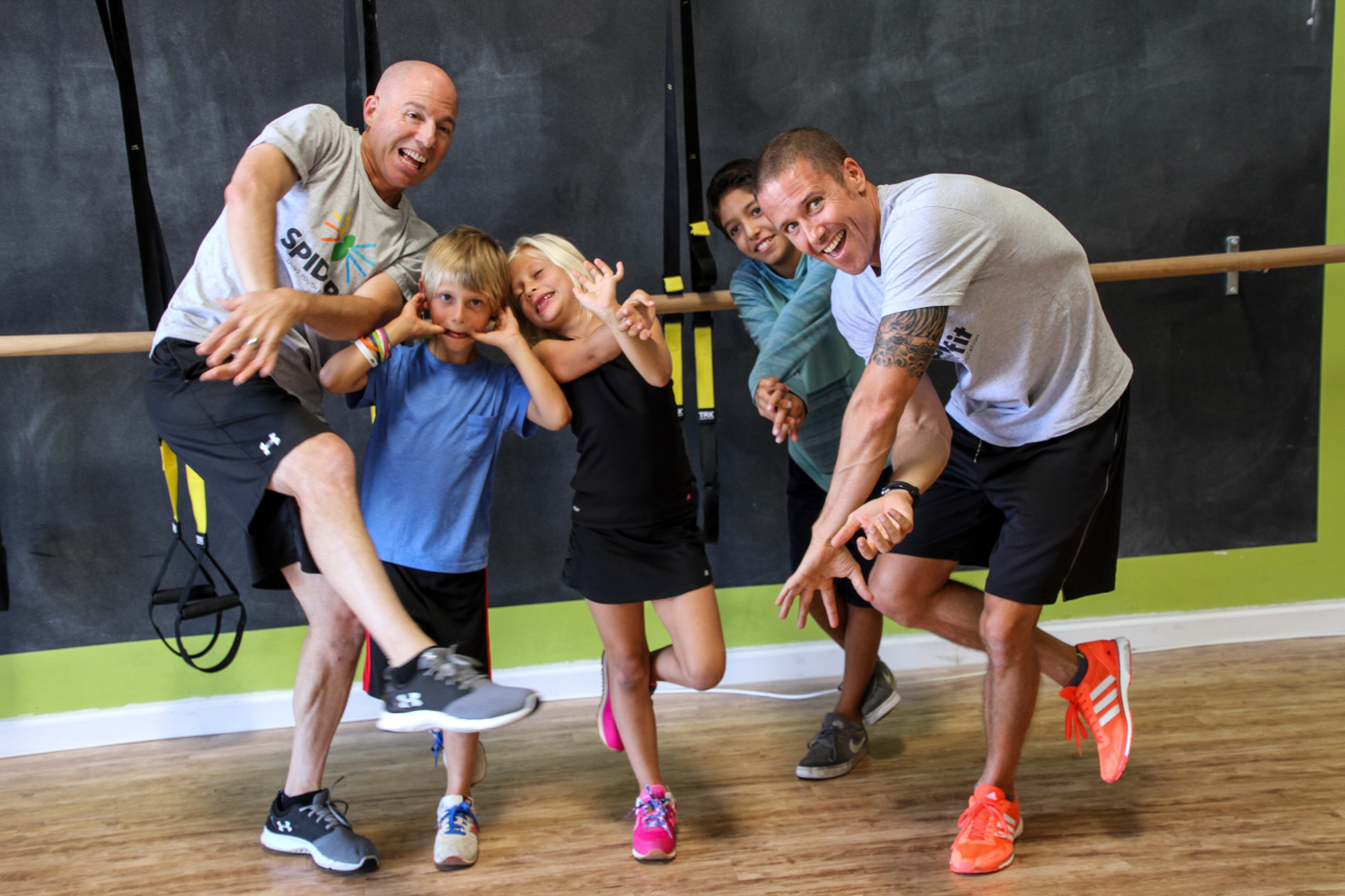 Brett Klika and Craig Valency are certified strength and conditioning specialists who have been working with children in community programs, schools, and the fitness industry for a combined 30 years.  Both Brett and Craig are published authors and international presenters in the fitness industry. Brett graduated from Oregon State University and holds a variety of certifications in the fitness field.  Craig has a bachelor degree from UCLA and master of arts degree in Kinesiology from San Diego State University.
Learn more about Brett and Craig here!
For daily youth fitness and physical literacy tips, make sure you follow (and like!) SPIDERfit Kids on Facebook here!
Every Monday, we send free information and other resources to the SPIDERfit Kids Tribe.  Sign up here and we'll include you in the movement!
Finally, the SPIDERfit YouTube channel is where you'll have access to tons of archived video resources with fun and effective games and activities.  Subscribe to the SPIDERfit Kids YouTube channel here!
We're honored to have you as part of the movement to get kids moving!
Learn

Here is where you'll find blogs, videos, and other resources to not only expand your knowledge and know-how, but also to share with your community!
The health and well-being of our youth is in peril, and we need your help to spread the word of change.
Play and Development: Enjoy blogs, videos and other resources sharing research and practical tips on how both guided and unguided sensory-based play can be effective for physical, social, and cognitive development.Click here for our most popular blog on the 9 key developmental skills that form the foundation of physical and cognitive performance.
Play and Physical Fitness: Discover strategies on how to use play during class time, personal training sessions, sports practices, and more to improve fitness and physical performance for all ages and ability levels.Click here for one of our most popular blog posts on how targeted activities can be used to develop timing and agility for games and other activities.
Teaching/Coaching Best Practices: Inspiring children to become confident and competent with physical activity for life is as much of an art as it is a science.  In this section, we share the "tricks of the trade" that have helped us and other professionals to not only inspire kids, but to grow successful and profitable youth fitness programs.Discover how to:

"Build" skills for different fitness levels
Manage large groups
Create an effective program framework
Adapt activities for various fitness levels
Properly "cue" movement to maximize results & reduce frustration
…and much more!
Click here for our most popular YouTube video on how kids coaching each other can speed up learning.
Here you'll have access to blog posts and videos with instructions and demonstrations for some of our favorite youth fitness and physical literacy games and activities.  These are divided and indexed into categories that make them easy to use immediately with the kids you work with!
Play-based warm ups and circuits
Coaching and teaching best practices
Classroom movement break activities
Quick grouping activities
Perceptual motor (Sensory Awareness) skills activities: Body, directional, spatial, temporal, auditory, vestibular, visual, proprioceptive, and tactile
Activities for large and small groups
Click here to see one of our most popular "spatial awareness" activities for grade school kids.
The Store
SPIDERfit kids is working to constantly create, update, and acquire valuable resources to help you on your mission to inspire kids to fitness.  In this section of the site, you'll have the opportunity to take home courses, eBooks, guides, and other powerful youth fitness tools at a great value.
Be sure to check out SPIDERfit's most recent course: Powerful Play: The Ultimate Guide to the Foundations of Youth Fitness and Physical Literacy here!
Connect
Now that you know us, we want to get to know you better!  Connect with us here or send us an email at brett@spiderfitkids.com or craig@spiderfitkids.com. For videos, articles, and other resources, please follow us on Facebook and subscribe to our channel on YouTube. Let us know who you are and how we can help you inspire kids to lifelong fitness and physical literacy!